Sponsor the WeatherCam pages:
Extensively used by wind, water, weather & airsport enthusiasts in the South East (Kent, Essex & London) plus further afield.




2.1 million page views in 2022


Source: Google Analytics




Promote your company with a targeted advert linking back to your website.


Thousands of regular, repeat users who often check the weather several times a day, and visit as a bookmark of choice.


Your ad will be a 150 pixel wide by 110 pixel high box to the right hand side of most weather pages. The ad can be linked back to your website. Our link to you should help your Google ranking, due to the high number of sites linking to the weather pages.

Please note: your ad may be in rotation with a limited number of other companies.




You will have access to a special login page where you can upload and update your advert graphic, track the number of 'click-thrus', and view the number of impressions at any time.



Cost: £150 per year.





For further info, please email .



Actual ad size: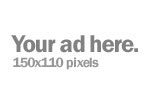 Some of the many users:
Dinghy sailors
Yachtsmen
Windsurfers
Kitesurfers
Powerboaters
Jet Skiers
Shipping
Fishermen
Gliders
Pilots & Aviators
Hand & Para Gliders
Model Aircraft