Instructions for arriving on race day (different to normal road directions).
Sheerness is well signposted from both the M2 and M20 motorways.
M2: Leave Junction 5 (A249)
M20: Leave Junction 7 (A249)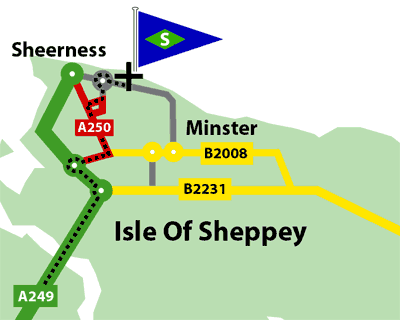 Follow the A249 onto the Isle Of Sheppey.
Stay in the left hand lane and follow the road round signposted Sheerness/A249.
Go straight across the next roundabout.
Move into the right hand lane and take the exit marked (Sheerness/Minster Services/A250).
Follow the road and signs for (Sheerness/A250) into Sheerness.
At the intersection with Sheerness highstreet turn right, and then stay in the left hand lane (signposted "Minster/A250").

At the mini roundabout turn right (signposted "Minster").

Follow the road along for a short distance, just after the large church on the right hand side, there is a slope up onto the promenade (next to "Family Amusements"). A marshall should direct cars with boats up onto the promenade via this slope.
The marshall will direct you to drive along the promenade towards the club.
Cars will start to form a queue near the club. At the head of the queue the boat and car will be separated and the car instructed to drive down the slope next to the club, back onto the road, and the short distance to the car park opposite the "Ship on Shore" pub.