A 40-mile clockwise circumnavigation of the Isle Of Sheppey
in north Kent organised by IOS Sailing Club

The UK's longest annual dinghy, cat & board race

Established since 1959 as an endurance event

Open to all classes of dinghy, catamaran, sailboard & SUP

Sea, river & estuary sailing with tidal conditions

In popular years 200-300 competitors have taken part

Every competitor successfully completing the course receives a circumnavigation certificate signed by the Commodore
2018 Race Info

Date
Sunday 9th September 2018

NEW: Early bird's race on Saturday 8th September (race details TBC, included as part of entry fee)
Entry fee
£40 postal entry before 31st August 2018
£45 on the day
Registration
From 8.00am inside the clubhouse.
Every competitor must register on race day.
Briefing
09.30 inside the clubhouse
Start times
10.00
Monohulls
Sailboards
PY >= 1120

10.30
Monohulls
PY 1119 to 1030
inclusive
11.00
Monohulls
Slow Multihulls
PY < 1030
PY >= 900
11.30
Fast Multihulls
PY < 900
Time limit
19.30 hrs to be included in the results
Tides (BST)
HW - 12:57 (5.8m)
LW - 06:57 (0.7m)
Other
08.30 Start off the beach for paddleboards
THE RACE:
IOS Round the Island Race is a long established, long distance event designed to test sailing skills and endurance over a 40-mile course. Sailed clockwise around the island, starting and finishing at IOS Sailing Club, the race includes tidal sea, river & estuary sailing.
The event is the longest dinghy and board race in Europe — it should not be confused with so-called 24 hour races, which allow for a change of helm and crew.
The race is open to all classes of dinghy, catamaran and sailboard but any dinghy or catamaran that does not have an RYA Portsmouth Yardstick number should make contact with the IOS Sailing Club before the day of the event.
THE COURSE: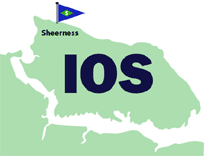 The race starts and finishes at Sheerness and is a clockwise circumnavigation of the island. Firstly by sea to Leysdown and around the NE tip of the Island, Shellness, and then into the Swale estuary. The Swale gradually narrows into the river, with the lifting road bridge at Kingsferry acting as an obstacle at its narrowest point. Larger dinghies and multihulls have to be stopped, heeled over and walked under the inner span of the bridge. The course continues up the Swale, through the ancient port of Queenborough and into the mouth of the Medway, before finally rounding Garrison Point to the open sea and the short distance back to the Club.
Course records:

Multihull:

1hr 52mins

Stuart Gummer/Ryan Crawford
(Hobie Wild Cat), 2010

Monohull:

2hrs 17mins

Neil Ashby/Sam Proctor
(RS800), 2010

Sailboard:

2hrs 42mins

David Clay, 2010

Typical passage times are 3 - 10 hours.

REQUIREMENTS:
Every boat should be capable of completing the course in whatever conditions are encountered. Particular note should be made of the possibility of being reliant upon your own resources for a protracted period, even returning after dark or in fog.
All boats buoyancy arrangements must be in thoroughly efficient working order. Safety boats are instructed that, if necessary, crews are to taken off, and boats left to be towed in later. It is therefore advised that all boats carry an anchor.
Perpetual Trophies and Prizes

Returned to the sailing club annually

Parker Cup

First overall on PY

Times & Guardian Cup

Second overall on PY

Third Overall Cup

Third overall on PY

Bartling Line Honours Cup

First across the finishing line

Rush & Tomkins Cup

First monohull slow handicap

McGloin Challenge Cup

First monohull medium handicap

Napier Cup

First monohull fast handicap

Thurston Challenge Cup

First multihull on SCHRS

The David Clay Windsurfing Challenge

First sailboard on elapsed time

Shadwell Basin Shield

First female helm (dinghy/cat) on PY

Cannon Tool Hire Shield

First singlehanded dinghy/cat on PY

Carlsberg-Tetley
Youth Shield

First under 16 helm on PY

Ship on Shore

First IOSSC boat over the line

Abbott Salver

First IOSSC boat on PY