Please note: the webcams are temporarily unavailable, as the WeatherCam system is in the process of being re-sited over the next few weeks. Apologies for
any inconvenience, and thanks for all the emails of support!
Cam 3
is running a sky view updated at 5 minute intervals during daylight hours in the interim.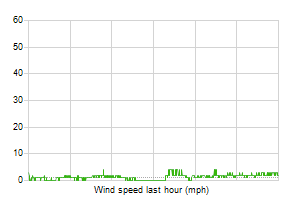 Sampled at
23:23
Direction/beaufort:
SSW F0
Wind spd:
1 mph
/
1 kts
Wind gust:
3 mph
/
3 kts
Avg (5m):
3 mph
/
3 kts
Avg (1h):
4 mph
/
3 kts
Max. gust:
22 mph
at
17:08
Temperature:
16.8°C
Wind chill:
16.8°C
Barometer:
1006 mb, Falling
Daily rain:
0.00 mm
Mostly cloudy and cooler. Precip possible within 12 hours possibly heavy at times. Windy