Free Sailing Results Software
The Race Results System is a free MS-DOS program that calculates the results for a dinghy sailing race using the RYA PY Scheme.
The software can be run on Windows Vista / XP / 2000 / NT / ME / 98 / 95 / 3.1 / IBM OS/2 or any system capable of running MS-DOS programs. Please note: Windows 7 requires the use of Microsoft's Virtual PC software.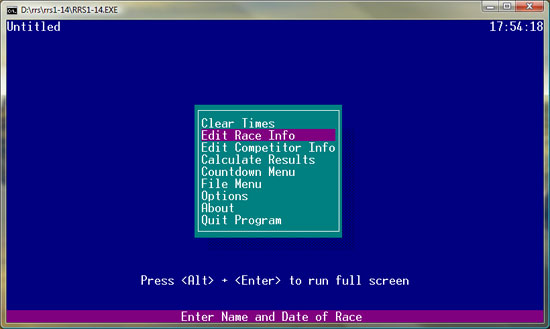 Screenshot
Features:
Free

Easy to use

Minimal hardware requirements (will run on any PC, however old)
Automatic PY handicap completion for most classes
Countdown menu with 5 and 1 minute options (with the actual start time being automatically recorded)
Supports Average Lap Races
'Time Sheet' function helps with noting finishing times: pressing the space bar notes up to 10 lap or finishing times on screen for copying to a paper record.
Ideal for up to 50 boats (but can handle up to 200 competitors)
Lists the time difference between adjacent finishing positions on results
Fast: a minimum of sail no., class and finishing time are needed to produce results

Results can be exported as HTML for the web, or as CSV for use with other applications
Supports the current RYA handicap system
Supplied with the latest 2012 PY numbers for most classes

Download:
Contact:
Design Notes:
All race timing is now worked out from 'time of day' to minimise errors. The software does not use an elapsed timer: instead this is calculated from the time each competitor finishes and the time the race started.

The program is designed to calculate the results for a single race.
For compiling series results Sailwave is recommended.
Links: